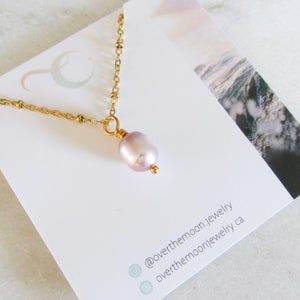 Cultured freshwater pearls are pearls that are farmed and created using freshwater mussels.
When a pearl is born, it is the result of irritation to the soft body of a mollusk. The sea animal, trying to soothe the stuck sand or speck, nourishes the irritation with a layer of nacre, followed by another and another until the pearl is formed. This is why pearls are considered to be gems of nurturing and nourishment, as their origin is a result of self-nurturing.
Pearls are also strong symbols of femininity, helping women connect with their "inner goddesses" and obtain the ultimate "feminine energy." Pearls have specific frequencies of energy vibrations which can re-balance deficiencies in the human body when they are worn, just like gemstones.
This pearl pendant hangs on a 16" + 2" extender hypoallergenic and tarnish resistant gold chain.
This crystal point is hand-wrapped with nickel free and tarnish resistant wire, and comes in silver or gold on a stainless steel chain (hypoallergenic + tarnish resistant).
As every gemstone is beautiful in its unique way, expect slight variations from the picture in your finished piece. We recommend avoiding contact between your jewelry and water, cleaners, perfumes or lotions.
The healing properties of the gemstone described here have been compiled from various sources. Many of them are traditional uses of this gemstone. No claims have been made about the suitability of this stone for healing or for curing diseases.