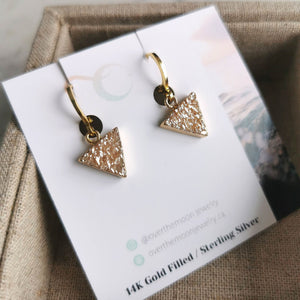 A Druzy Crystal is a composition of tiny sparkling crystals on the surface of a bulky crystalline body.
Druzy Agate helps boost your imagination and creativity. It provides the balance in your life to alleviate feelings of sadness, abandonment, or fear. Druzy Agate encourages you to relax and to reduce your stress level. It will also re-energize and uplift you emotionally.
The 14K gold filled settings are hypoallergenic + tarnish resistant. These sparkly earrings perfectly pair with our Champagne Geode Necklace.