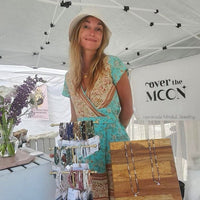 Meet Layla, Founder and Creator
"Designing and creating jewelry makes me feel calm and grounded in contrast with my "other life" of a rock-climber/skier/surfer. I love being outside and pushing my physical limits. In the mountains or on the beach, taking my adventures further and higher makes me feel alive."
Will your jewelry tarnish or give me a rash?
All my jewelry is tarnish resistant and hypoallergenic. I still recommend not to wear it in the water or use perfumes and lotions on it. 14K gold filled jewelry has a very thick layer of 14k gold (thicker than "gold plated" jewelry) but unfortunately isn't as resistant as "solid gold" (which is incredibly expensive).
I'd like to purchase a piece but my size is sold out.
Shoot me a message through our contact form! Chances are that, even if a size isn't in stock, I can still make a custom size for you. It's the perks of handmade jewelry :)
Do you make custom jewelry?
Absolutely! Send me a message through the contact form with your idea.
Do you make bridal/bridesmaid jewelry?
I certainly do! Send me a message through the contact form with your idea.
Do you use real stones?
Yes I only use natural gemstones and crystals. They are genuine and undyed.
Do you have a store?
I make all my jewelry from home, but see my Stockists page for all stores that stock my pieces.