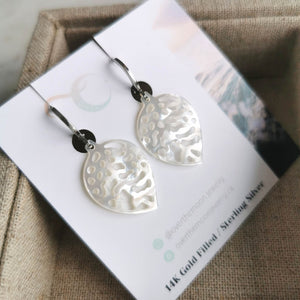 Nacre, also known as Mother of Pearl, is an organic material produced by some molluscs as an inner shell layer. It is also the material of which pearls are composed. It is strong, resilient, and iridescent.
Nacre is traditionally used for better memory recall and dream recollection. It tends to have a calming effect on those that wear it, reducing stress and allowing clearer thoughts and better expression.
These delicate pendants were carved into Mother of Pearl. The silver settings are hypoallergenic + tarnish resistant.