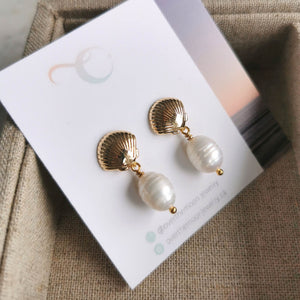 Cultured freshwater pearls are pearls that are farmed and created using freshwater mussels.
When a pearl is born, it is the result of irritation to the soft body of a mollusk. The sea animal, trying to soothe the stuck sand or speck, nourishes the irritation with a layer of nacre, followed by another and another until the pearl is formed. This is why pearls are considered to be gems of nurturing and nourishment, as their origin is a result of self-nurturing.
Pearls are also strong symbols of femininity, helping women connect with their "inner goddesses" and obtain the ultimate "feminine energy." Pearls have specific frequencies of energy vibrations which can re-balance deficiencies in the human body when they are worn, just like gemstones.
The seashell stud settings are hypoallergenic and tarnish resistant.