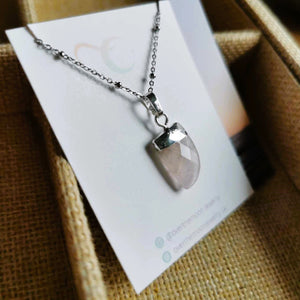 The Rose Quartz Dagger Necklace is the perfect accessory for any special occasion.  The delicate pendant hangs on a 16" hypoallergenic and tarnish-resistant chain. The rose quartz crystal contains natural properties thought to bring love and positive energy.
This crystal point is hand-wrapped with nickel free and tarnish resistant wire, and comes in silver or gold on a stainless steel chain (hypoallergenic + tarnish resistant).
As every gemstone is beautiful in its unique way, expect slight variations from the picture in your finished piece. We recommend avoiding contact between your jewelry and water, cleaners, perfumes or lotions.
The healing properties of the gemstone described here have been compiled from various sources. Many of them are traditional uses of this gemstone. No claims have been made about the suitability of this stone for healing or for curing diseases.