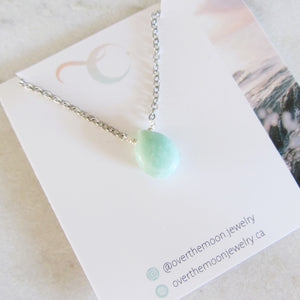 Amazonite empowers you to discover your own truths and integrity, and to move beyond fear of judgment or confrontation with others in order to live in alignment with those beliefs and values. It provides the freedom to express your thoughts and feelings, to set strong and clear boundaries and to define personal space.
This beautiful faceted Amazonite pendant hangs on a 14" hypoallergenic and tarnish resistant silver chain.
This crystal point is hand-wrapped with nickel free and tarnish resistant wire, and comes in silver or gold on a stainless steel chain (hypoallergenic + tarnish resistant).
As every gemstone is beautiful in its unique way, expect slight variations from the picture in your finished piece. We recommend avoiding contact between your jewelry and water, cleaners, perfumes or lotions.
The healing properties of the gemstone described here have been compiled from various sources. Many of them are traditional uses of this gemstone. No claims have been made about the suitability of this stone for healing or for curing diseases.