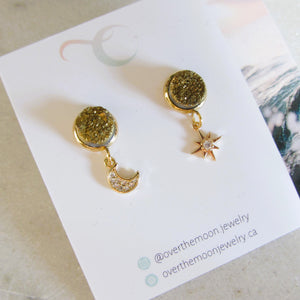 A Druzy Crystal is a composition of tiny sparkling crystals on the surface of a bulky crystalline body. Druzy crystals mainly come from geodes.
Druzy helps boost your imagination and creativity. It provides the balance in your life to lessen depression or feelings of sadness, abandonment, and fear. Druzy encourages you to relax and to reduce your stress level. It will also re-energize and uplift you emotionally.
The settings are hypoallergenic + tarnish resistant.